Saturday afternoon was the San Diego Surf WPSL Team's second match of the season. With loads of domination, mainly in the second half, the Surf side rolled by the host SD Parciero Ladies at Madison High School, 8-1.  Similar to the season and inaugural opener vs ASC, it was a slow start, and the feisty Parceiro home side found ways to congest areas, win midfield battles and even find some moments to get behind the Surf backline and get some attempts at goal. It almost looked as if the the half would end in a 0-0 deadlock until, and finally, Brooke Wilson found Molly Myers in the 43rd minute with a cross from the right flank and a strong finish to break the deadlock as the half ended.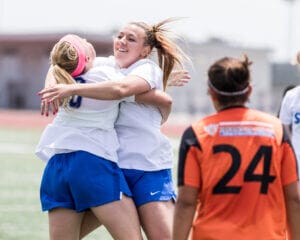 With a little half time tutelage by Head Coach Kate Norton, and ultimately a formation change, the Surf Ladies came out firing. It was the Myers/Wilson show in the second half as Molly Myers found the back of the net 4 different times with 2 of her goals assisted by Brooke Wilson. Myers other 2 goals tallied assists by Wilson (Arizona), again, and Logan Wells (USC). Aside from Wilson's 2 assists to Myers, she also netted twice herself.  Wilson's goals came by pick up off a free kick from Trinity Watson in the 56th minute and the other assisted by Amber Tripp (UVU) in the 69th.
Violet Renard and Zoe Rodriguez- Willie scored the other 2 Surf goals for their first goals of the season. Rodriguez-Willie (Cal Lutheran) was making her Surf debut. Her goal was unassisted in the 73rd with a very nice drive from about 25 yards to beat the Parceiro Keeper. Renard scored off a little slip pass from Natasha Camacho-Bier, also in her SD Surf WPSL debut, in the 77th minute.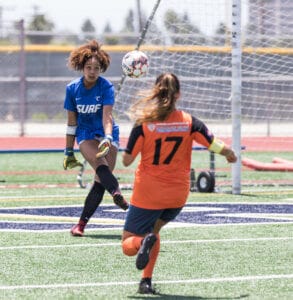 Taylor Washington (UNC) had solo net duties and mainly a quiet afternoon, but still picked up the Win.Parceiro broke through finally in the 81st minute off a big throw in to goal to beat the Surf Defense and muscle one through to take away the clean sheet for the afternoon.
The win puts San Diego Surf at the top of the board, early on at 2-0 in the San Diego Division of the WPSL Pacific South Conference.
San Diego Surf WPSL starting 11 versus San Diego Parceiro Ladies, May 18:
Goalkeeper: Taylor Washington (U of Northern Colorado)
Defenders: Trinity Watson (Pepperdine), Sarah Trissel (Georgetown), Logan Wells (USC), Brenna Crow (SMC)
Forwards: Leyla McFarland (Pepperdine), Molly Myers (WSU), Brooke Wilson (U of Arizona)
Head Coach: Kate Norton
Asst Coach: Jason Donlon
The Surf WPSL team will be off the Memorial Day weekend but will be back out the week after with a 2-pack of games:
Friday – May 31 vs LAGSD 4pm @ Army/Navy Academy
Sunday – June 2 vs ASC SD HOME OPENER @ Canyon Crest Academy – 4pm kickoff