The inaugural San Diego Surf WPSL season opener was a victorious success under sunny Mother's Day skies at Mission Bay High School Stadium.  Led by Surf's Head Coach Kate Norton, the WPSL team came out on top 4-3 versus the host ASC San Diego, also in their inaugural game and season as well.
With a strong roster of SD Surf players, alumni and D1 players on summer break, the ladies from Surf SC dominated most of the play throughout the afternoon.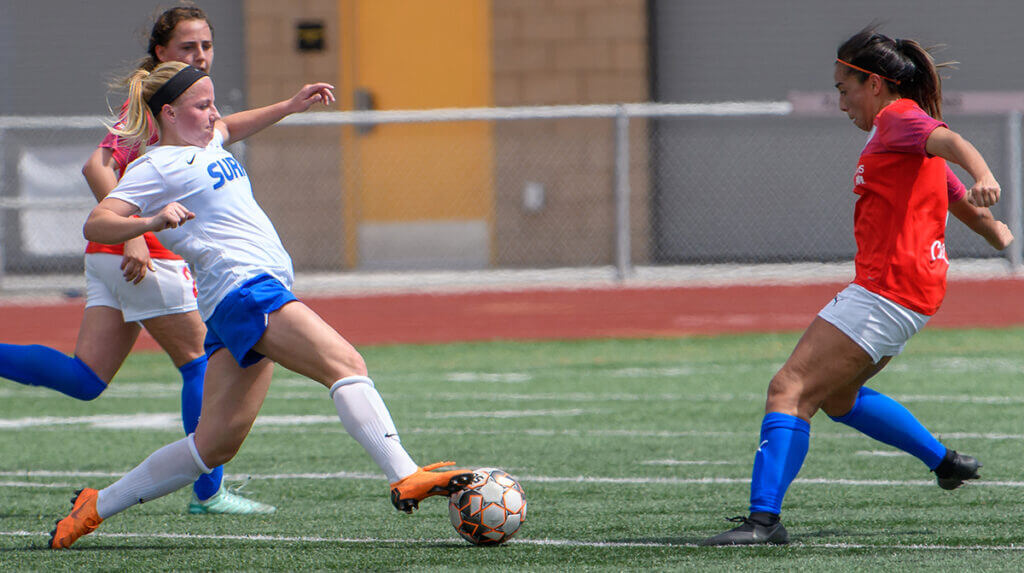 In the opening 25 minutes it was scoreless, but there was a barrage of Surf attempts as they stretched and infiltrated the ASC back line, getting behind them multiple times, but failing to find the back of the net to get the opening goal. And the Surf back line led by Surf Alum, Trinity Watson, was just too tough to penetrate for ASC. But after several shots on goal and even more shots wide, high and long, it was Amber Tripp (UVU) who finally broke through with an assist from Maya Hamilton (Surf SC) in the 29th minute. The celebration was short lived however, as the ASC side was awarded a penalty kick and converted, to even the match in the 37th minute and head in to the halftime break with the score tied 1-1.
The Surf side came out in the second half seemingly eager to capitalize on what they may have missed in the first, and they didn't disappoint. It was Amber Tripp again, picking up a loose ball in the ASC corner and managing to shake a few defenders and then the Keeper and find the back of the net with her unassisted second goal of the match, to break the deadlock and put Surf up 2-1. Things seemed to open up a bit for Surf after that with a couple of more goals from Brooke Wilson (U of Arizona) in the 52nd minute with another assist from current Surf 01 player, Maya Hamilton. And then Molly Myers (Washington State U) willed one in past the ASC GK in the 65th minute, assisted by Surf Alum Leyla McFarland (Pepperdine U).
Things heated up a little after the comfy 4-1 lead settled heading into the final 15 minutes of the match as ASC found a way to the back of Surf's net on a loose ball and a little confusion to get a tap and their second goal making it 4-2. And then in the 86th minute, it was ASC again, and former USWNT team member and gold medalist, Natasha Kai, who showed her experience and skill to make it 4-3 with a nifty drive passed the Surf GKs near post to give the ASC side some new hope. It was too little too late however, and the Surf Ladies were too tough, and too deep to equalize as they held on for the win.Taylor Washington (U of Northern Colorado) and Brooke Lisowski (SDSU) shared Net duties for Surf with Washington getting the start.
The inaugural game and season opener San Diego Surf WPSL starting 11:
GK: Taylor Washington (UNC),
Defenders: Trinity Watson (Pepperdine), Kaylin Martin (USC), Logan Wells (USC), Brenna Crow (SMC)
Midfielders: Sarah Trissel (Georgetown), Amber Tripp (UVU), Kelley Carusa (USD)
Forwards: Leyla McFarland (Pepperdine), Iyana Zimmerman (Arizona), Molly Myers (WSU)
Head Coach: Kate Norton
Asst Coaches: Greg LaPorte, Jason Donlon
Next game: Saturday, May 18 vs SD Parceiro Ladies @ James Madison HS.  Kickoff at 1pm.